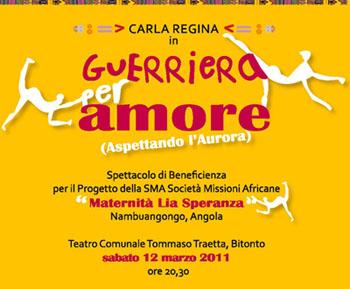 Carla Regina concept, script, voice
Emanuele Modugno piano
A Production of: Stichting Voice, Actually
!
The show is a charity and fundraising event for the project "Maternita`Lia Speranza" in collaboration with SMA (African Missions Society) and Fratres Bitonto, Italy. The African mission`s Society operates for many years in Africa.
The goal is to raise money to build a clinic for pregnant women with a full equipped delivery room, in the province of Nambuangongo, Angola.
The clinic is named after and dedicated to the memory of the late Lia Speranza, friend and supporter of SMA, philantropist and activist for the poor and the destitute all over the world.
Carla Regina and pianist Emanuele Modugno allow the audience to meet the character of a woman (fiction or reality? They let the audience decide…), who is a warrior and general of an army that fights in the name of love.
In a series of short stories and anecdotes, this woman, strong and fragile, who stumbles and falls and stands up again, extraordinary in her ordinary life, comes to life, leaving the audience with the feeling that they too are and can be a part of this army, touched as they have been by her life.
The fascinating narrative is entwined with a musical repertoire which brings together, as common in the work of Carla Regina, different styles and genres (from Schubert to Neapolitan songs).